ABOUT THE ARTIST:  Mamie Potter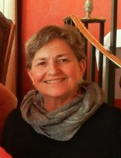 I became interested in photography after a trip to San Diego. I took a hundred photographs of the sunset from my hotel balcony, and was amazed at how well they turned out. I realized then that a photograph captures something that may not wait for the perfect camera setting. Since then I have been looking for beautiful and fleeting moments through the camera lens.  I am particularly fascinated with the kinetic way the sky, water and wind work together.
I use a Nikon SLR camera for black and white photographs, a Nikon digital for color, and my iPhone for those times when the cameras are not available.  I love working in the darkroom with my negatives as well as negatives that I inherited from my family.  I have even developed cels found at a thrift store. 
My photographs are on permanent exhibit at the North Carolina State School of Veterinary Science and the Governors Institute.  I have exhibited my work at the 1880 Gallery at the Long View Center in Raleigh, NC.
My cards are available at  Quail Ridge Books in Raleigh, NC, and my prints are available at Down East Gallery in Oriental, NC. 
MAMIE'S PROCESS
All photographs are printed on an Epson R2880 printer using Epson Ultrachrome inks and Epson photo papers.  They are matted on archival mat board using photo corners so that the photograph is re-mountable.  They are shipped in archival bags.
Card sets are printed by a professional printer on 10 pt. digital cover stock using cmyk 4\O ink .
Prints are available in Strathmore Photo Frames.  Prints for these cards are professionally reproduced and mounted in the frame with two-sided tape.
Prints are shipped Priority Mail by the USPS.